New Patient Forms
Print & Complete at Home!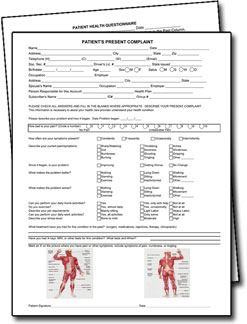 All new patients must complete our new patient intake forms. These forms must be filed with us on or before the day of your appointment.
For your convenience we have made available Adobe Acrobat pdf versions of the new patient intake forms so you may download and complete at your convenience. It's not required, although printing and completing our new patient forms at home prior to your first office visit will save you time and help make your first appointment quick and easy.
You'll need the free Acrobat Reader to view and print the Forms.
Should you have a problem, please call our office; we'll be happy to mail or fax them to you.